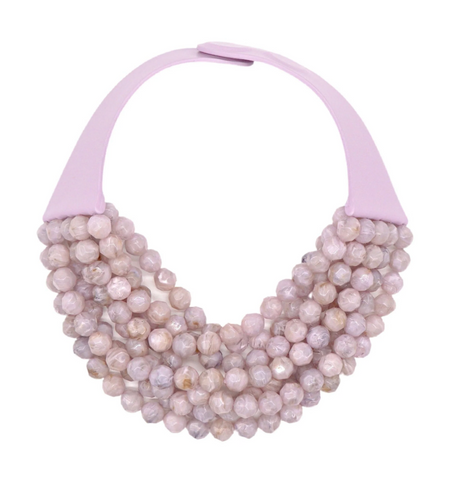 BELLA NECKLACE - SOFT LILAC
Multi-strand necklace with faceted resin beads
12mm beads
Leather collar
Adjustable magnetic closure
Handmade in Italy
Fairchild Baldwin
Free Shipping.
---
We Also Recommend
CUSTOMER TESTIMONIALS
"I love this (Kasey) top SO much!  I have every color now.  Please make more!!"
- Kelly
"I absolutely love the Coco Dress.  Every time I wear it I get compliments."
- Heather
Heidi, just wanted to tell you how much I love this top. It was packaged beautifully and the material is sooo luxe. I'll have to give some other pieces a try!
- Lisa M.
This dress is the best thing ever. I can't even describe how I feel in it!
- Christen Myers
I have the black Tori Top and I definitely need the another one! Great material, soft and comfortable. Love it!!!
- Laura
This caftan!!! So great! I wasn't sure at first, but as soon as I tried it on, I was totally convinced. It's way more flattering than I expected.
- Melissa
The fabric is beautiful, light, soft, and of the best quality. I own other pieces from Heidi's line and can't say enough about them. Heidi Houston is my new favorite! I highly recommend any of her beautiful and comfortable pieces. She does not disappoint.
- Janice
The cut creates a great silhouette! The fabric is super soft and it just feels comfy and chic.
- Cathy